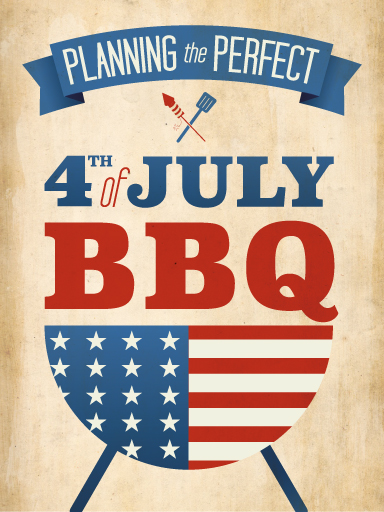 Happy Almost 4th of July!
Knowing what we are going to eat really can help us to stay on track, and sometimes, a real source of comfort.  Folks who pre-plan meals tend to do eat healthier and stay on track.  So, what gets in our way?  Summer has begun in earnest and next week comes one of the bigger challenges of the year….so let's get planning!
THE FOURTH OF JULY BBQ!  
Just uttering the words can cause a lump of cellulite to pop up on our left thigh!  Aunt Martha is making that damnably tasty potato salad; Grandma is bringing her famous Brown Sugar Baked Beans and Brother Bill is supplying the drinks – which means 14 six packs of beer.  Sound familiar?  What do you usually contribute to the feast?  If you aren't celebrating the Fourth with a big potluck/bbq – what other similar food challenge events are looming this summer?
What's your plan?  There are many ways we can go – and part of pre-planning is the decision of what will work best for you.  Feeling the need have your plate look like this?
Yeah, nothing says I Love My Country better than a cholesterol induced heart attack!  Seriously, however, you may decide this is a food blow out day, and intend to indulge.  How can you make the Freestyle plan work?  Remember those cute little food-indulgent bonus points that rollover into the Weekly SmartPoints!  Perhaps a strategy is to bank all the extra points you can (maximum of 24 points to roll over), use the Weekly SmartPoints and even dip into your FitPoints.  And don't forget to bring some Maalox!
Maybe you intend on dazzling your friends and families with a feast like this:
or this:
Have you ever tried grilled watermelon?  Try it!
But wait, you cry!  Brother Burp will be offended if I don't eat his 3/4 lb cheese stuffed hamburger!!  It's a family tradition!  And it was the favorite of his late father, who recently died of a cholesterol induced heart attack!
Traditions are important, and it can take real courage and determination to change.  Bringing your own food, adding some new healthier options to the potluck table…all of this says you love being alive, healthy and you are a person with a goal – to live long and healthy.  Chances are there will more than a couple of friends and family members sampling and loving your choices!
There are lots of ways we can make the summer BBQ season successful.  Let's make this the most successful BBQ year of our lives!  Here are a couple of recipes to try:
Peanut Chipotle Chicken Tenders

Ingredients
1⁄4 

cup(s) 

Peanut Butter & Co. Original peanut powder

1⁄4 

cup(s) 

barbecue sauce

2 

tsp 

canned chipotle peppers in adobo sauce

1 

tsp 

regular butter

, melted

1

pound(s) 

uncooked boneless skinless chicken breast(s)

, cut into 8 tenders

2 

Tbsp 

uncooked scallion(s)

, chopped
Instructions
Stir together peanut butter powder and water.
Stir in BBQ sauce, chili in adobo, chili powder and butter.
Coat a grill or grill pan with cooking spray and preheat over medium-high heat.
Cook chicken until just cooked through, flipping once, about 2-3 minutes per side . Brush tops with some sauce and cook for an additional minute.
Serve garnished with scallions and with remaining sauce as a dip.
Serving size: 1 chicken tender and 1 Tbsp sauce
Ingredients
1 cup canned white beans, drained and rinsed

1 cup canned black beans, drained and rinsed

1 large fresh tomato diced

1 small uncooked onion, diced

1 rib, medium uncooked celery, diced

1 Tbsp white wine vinegar, or red wine vinegar

3 Tbsp fresh parsley, Italian variety or Basil, minced

1/8 tsp salt, or more to taste

1/18 tsp black pepper, or more to taste
In a large bowl, combine beans, tomato, onion and celery.  Gently stir in vinegar and sprinkle with parsley or basil; season to taste with salt and pepper.
Serving size:  1 cup